What can all of us stand to have a little more of right now? A little more tenderness, please.
A few months ago, I put out an article on my Top 10 list of Financial Skills needed for modern living. Among them was #7: Have respectful and productive conversations about money. Today I'd like to amend that recommendation, just slightly, in light of the financial stress being faced by hundreds of thousands of families: Have respectful and productive and TENDER conversations about money.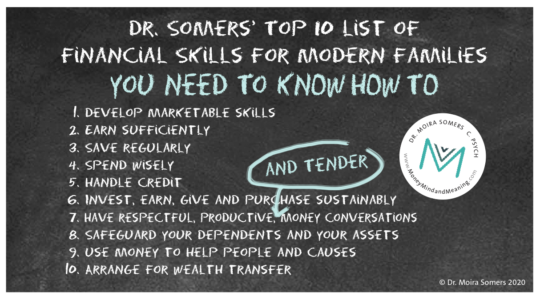 My original recommendation was meant to encompass everything from talks about co-mingling of finances to what constitutes "reasonable" spending to how much support to offer adult children. Important skill, indeed. Without that skill, assumptions run rampant, and the ability of the family to prosper relationally AND financially is compromised.
Now, more than ever, money conversations do need to be happening within our families. Change demands accommodation. Formerly wise decisions may well need to be discarded and remade in light of new realities. But we all need to dial back on the … shall we say… earnestness of those money talks right about now.
What spurs me to write this article are the dozens of requests for media interviews filling up my email inbox every week. It's clear that, around the globe, families are reeling from the effects of direct and indirect financial stress. Even if current earnings are unaffected in a given household, indirect financial stress enters via the empathy and worry people have for laid-off loved ones and co-workers and complete strangers; it comes from the constant wondering about whether or when it might be that household's own turn to experience financial hardship.
And in families where earnings are reduced and/or debts are mounting, the effects of financial stress are often more immediate and observable: disorientation and grief stemming from economically-mandated changes in routine; fretfulness over dwindling cash reserves, foodstuffs, and the other commodities necessary to keep a family afloat; sleeplessness; an inability to settle oneself, both physically and emotionally.

The end result of this financial stress is often an increase in conflict. With everyone feeling a little more ragged and tense than usual, it is all too easy to let loose with harsh pronouncements and critical commentaries. Researchers have been telling us for some time that marital conflicts about money have the potential to be especially damaging. Financial disagreements are associated with nastier fighting techniques and poorer relational outcomes. That's why the tincture of tenderness is essential today.
How can we set ourselves up to have respectful and productive and tender money conversations? Here are a few ideas to get you started.
Set aside a specific time to deal with a given financial issue. I'm usually a big fan of spontaneity, but not for money conversations between depleted, stressed-out people.
Mutually decide ahead of time what should be on the agenda. Keep that agenda short and sweet — shorter than you think it should be, and sweeter than you might be feeling. Better to have several short and successful meetings than one mondo discussion that risks leaving everyone raw and alienated.
Make a point of truly settling yourself, emotionally and physically, before starting the discussion. Don't just distract or numb out; instead, really give yourself what you need to get into a calm space. Listen to or make music. Exercise. Read or listen to something that reminds you of what matters in family life, and tap into the spirit of love and compassion (or lightheartedness and hilarity!) that such material revives in you.
Across cultures and classes, humans tend to reserve their best levels of self-control and politeness for people outside their home. The people closest to us get the leftovers. These days, that might not be so pretty! But with a little bit of foresight and intentionality, and a commitment to staying respectful, productive, and tender, we can help ensure that financial stress does not undo our most important ties.
There are lots of great resources to help individuals and families solve money dilemmas. Here are two of my current favourites:
The Ellevest newsletter – Sallie Krawchuk and her team keep it real and keep it relevant.
Kelley Keehn's Talk Money to Me. A soup-to-nuts treatment of personal finance.
Sending you all a big bottle of the tincture of tenderness.