Additional Resources from Dr. Somers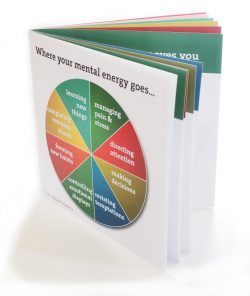 Where Your Mental Energy Goes booklet
An engaging presentation of how our mental abilities can grow depleted in response to life's challenges, along with easily implementable tips for restoration.
-- Great handout for clients and conference attendees
-- Full colour, 20-page booklet measuring 5.5 inches square
-- 3 for $10 USD (plus postage). Bulk discount available.
Where Your Mental Energy Goes card
For use by financial professionals and their clients.
-- Full-colour card, with adherence-boosting questions on the back
-- 10 for $10 USD (plus postage)